Congee (pronounced jook in Cantonese), a type of rice porridge typically eaten for breakfast in China and other parts of Asia, is a dish that represents pure comfort for me. A bite of congee transports me back to my childhood and is something that is so soothing and healing for my mind and soul. Growing up in Hong Kong, we ate congee frequently for breakfast, sometimes for dinner, or whenever I got sick I would be given a big warm bowl of it.
It is a dish which typically consists of white rice cooked in water and mixed with seafood and meat and topped with different garnishing and is particularly delicious when eaten with slices of Chinese fried dough sticks which soaks up the congee perfectly.
The beauty of congee is that it is incredibly easy to make, and the ingredients can be easily adapted based on availability and taste preferences. This particular recipe is plant-based and is made with brown and red rice, and is topped with some of my favourite garnishing. The main flavouring of my congee recipe are shiitake mushrooms, vegetable broth and ginger with a range of toppings to give the congee more flavour and texture.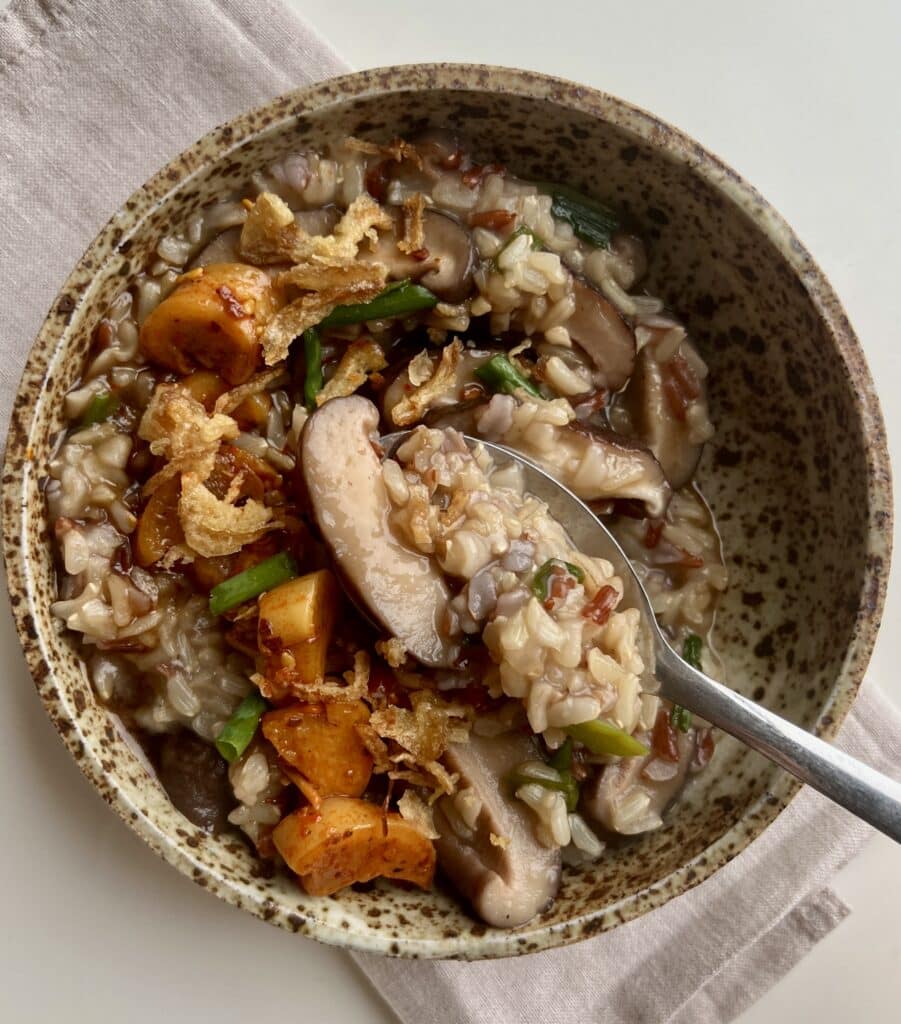 Ingredients
1 cup rice (this recipe uses a combination of brown/red rice)
8-9 cups filtered water (plus more if needed)
8 shiitake mushrooms (sliced)
1 organic vegetable stock cube (mix into 1 cup boiling water)
Thumb ginger (peeled, sliced in half)
1 tsp salt
Topping
Spicy choi po/preserved turnip (optional)
2 sprigs spring onion (roughly chopped)
Crispy shallots
Drizzle soya sauce/liquid aminos and sesame oil
Method
Start by rinsing the rice in some water to get rid of some excess starch. Drain
In a large pot, add the water, rice, ginger, vegetable broth, shiitake and salt
Cover with a lid and bring to boil, then turn the heat down and leave to simmer with the lid on for up to an hour. Check and stir occasionally
Serve with your toppings of choice